To SAVE ELECTRICITY, IS IT CORRECT TO SWITCH-OFF SOME LAMPS OR REPLACE THEM WITH THE LOWER WATTAGE LAMPS?

The answer is only partially correct. However, in order to optimize energy utilization in the lighting system, we should consider
1.         % Percentage of energy saving
2.         Durability and stability of the system (Maintenance costs)
3.         Efficiency in energy allocation

With these critical factors, PSJ has innovated and developed the state-of-the-art lighting power controllers, with solid-state microprocessor technology (CPU).  PSJ controllers can be seamlessly installed and co-existed with your existing lighting system or even better with new installation. Our products are addressed to your energy saving technology and compliance with the government policy to provide sufficient energy for all Thai people.
MAJOR APPROACHES FOR ENERGY SAVING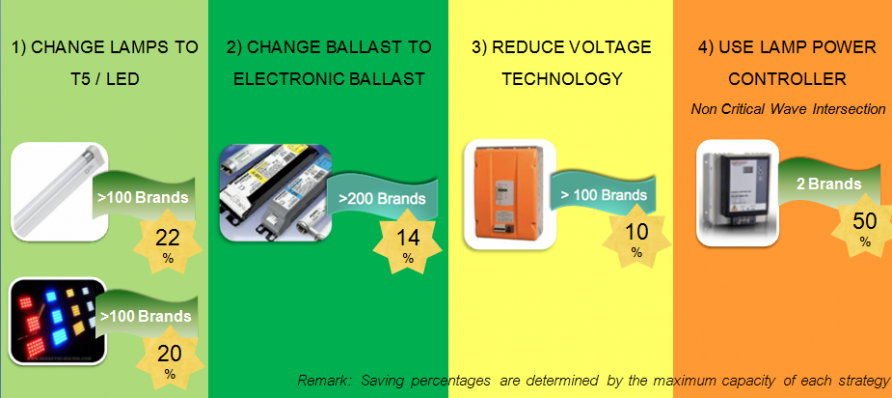 Topic

Energy Saving Technologies

Using Lower Wattage Types

 

Changing Magnetic Ballast to Electronic Ballasts

Reduced Voltage Technology

Lighting and Energy Control by N.C.W.I. Technology

Application

Indoor

Indoor

Indoor and Outdoor

Indoor and Outdoor

Lifetime

5 Years

5 Years

< 5 Years

> 8 Years

Quality of Components

Commercial Grade

Commercial Grade

Commercial Grade

Industrial Grade

Energy Saving Efficiency

20 – 22%

14%

10%

Up to 50%

In common practice, in order to reduce 50% energy, consumer will switch off (or take the lamps off).  It is true that this method will help reduce the energy, but leaving some dark spots which create un-uniformity of lighting pattern or brightness. This is called zebra-effect that might cause severe implication to safety standard in workplaces especially, in the road traffic which may cause unintentionally accidents.  This might affect the image of your organization as well.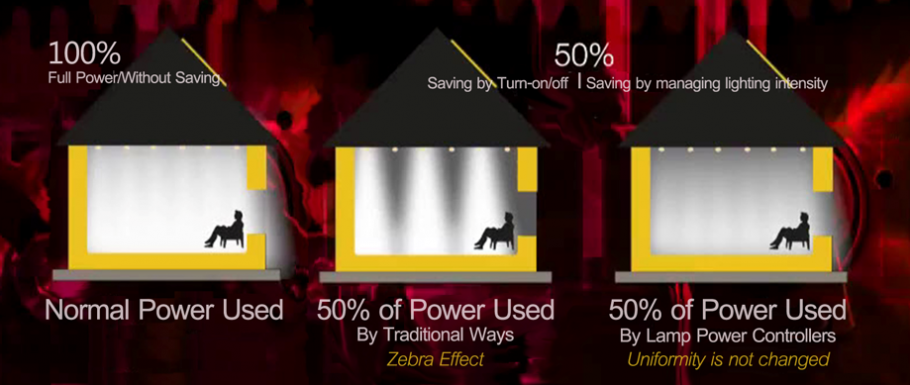 Eventually, PSJ has discovered the lighting allocation and energy management with Lamps Power Controller System.  Our solution is fully complied with the concept to optimize the real energy allocation and utilization while maintaining the standard work-place lighting requirement announced by the government regulation. That means it retains the same efficacy and uniformity with all lamps switching on.
NO REPLACEMENT FOR THE GOOD AND EFFICIENT LAMPS 
NO REPLACEMENT FOR CURRENT MAGNETIC BALLASTS (MAY LAST LONGER UP TO 20 YEARS)

Moreover, why do not we design to eliminate the excessive energy? It would be perfect if we could utilize the energy equal to the actual usage. In reality and technically, we cannot do so. Taking the meeting room that needs 400 LUX requirement as an example, to meet 400 LUX requirement we need to have 21/23 Watt lamps which are non-existent in the market. Eventually, the lamp manufacturer has to design the product to cover the degradation of the lamps throughout the guarantee service hours in order to maintain the light efficacy, this is where we have the excess energy which is manageable by PSJ.