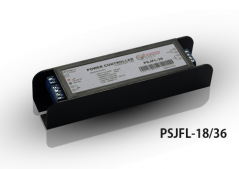 PSJ Power Controller can control energy consumption and reduce demand charge.
With the new lighting control equipment technology, N.C.W.I lighting can be controlled in a range of 100% to 1% of luminous flux for fluorescent lamps.
Key Feature
Design for fluorescent lamps with magnetic ballast. The light level can be controlled as low as 1% of luminous flux. The power usesage can be as low as 10% power (90% power reduction).

Application

For : Fluorescent




Data Sheet