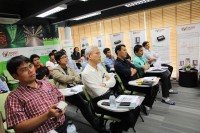 Seminar with the corporation of Thai ESCO ( Thai Energy Service Company) , the seminar with the topic of "Analysis of Lighting Strategies" on Friday 25 June 2014, at PSJ Energy Save Building.  The seminar was conducted by the specialist of lighting management in Thailand, Mr. Chatchai Buathongsri.
Left:  Mr. Pisit, PSJ President and CEO, was greeting all guests. 
Right:  Mr. Chatchai, the specialist in lighting management, was sharing his experiences.
Mr. Wattana, the product engineer, was presenting PSJ Overview.
PSJ's Products information to participants. Showing all features and capabilities of the equipments.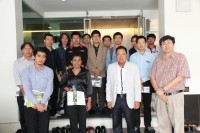 Thank you for all participants from 12 companies, and Thai ESCO associate.